Overview
SalesPad's Item Note plugin displays notes related to an inventory item, which are created in Inventory Lookup on the sales document entry screen. Item Note can be configured to pop up when the item is added to a sales document, and can also be accessed from the Actions dropdown (
) on the sales document Line Items tab.
Note: This feature is available in SalesPad version 4 and later.
Security
Sales Line Item Note must be enabled in the Security Editor. Set the Misc sub-setting Auto Run to True to automatically pop up the item note when an item is added to an order.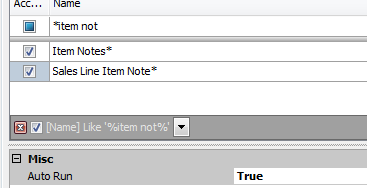 Use
Create item notes in Inventory Lookup, on the Item Notes tab. Proper security required – refer to SalesPad's Inventory Lookup documentation for more information (Notes can also be created from the Item Notes tab in Inventory Analysis)
Open a sales document and enter a line item that has an item note. If Auto Run is set to True in the Security Editor, the item note will pop up:

Click OK to close the note. To see the Item Note again at any point, select the line item and select Item Note from the Actions dropdown:
The item note will pop up again.